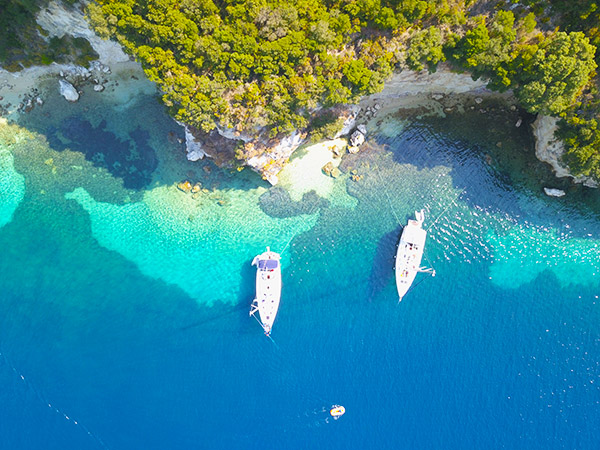 The Ionian islands of Greece are located in the south-east of Italian Puglia, at a lower latitude; they are particularly interesting for the sailor as during the day they are very windy, and therefore fun for sports sailing, while in the evening the daytime breezes go down, and the sparse choice is quiet for the night (Except obviously cyclonic disturbances)
The archipelago is divided into two macro-zones: the island of Corfu to the north, with Paxos and Antipaxos to the south, while the southern part includes the islands of Lefkada, Kefalonia, Itaka and Zante plus other smaller islands.
The coasts of these archipelagos have a perimeter of many miles, to navigate, explore the different beaches, and experience the places on the ground, with typical Greek hospitality.
We particularly recommend these islands in the panorama of Greece especially in the summer months, as unlike the Cyclades area, the area offers a strong breeze wind present only during the day, unlike the Melteni which sometimes blows for several days in the Cyclades islands.
You can rent a boat from the site with departure from Corfu, or a catamaran or sail in the archipelago to the south starting from the main bases of Lefkas and Preveza.
Sailboats Charter, Catamarans Charter, Gulets are available, with or without skipper.