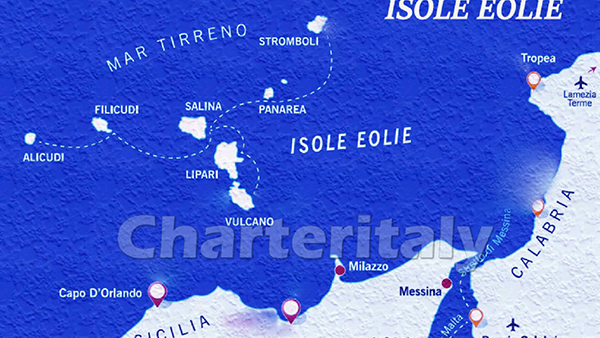 The Aeolian archipelago is located in the north of Sicily, and is composed of 7 islands, all characterized by a distinct personality but with a single indistinguishable origin: the typically volcanic one that makes them in different forms, all conical, and with often rapidly degrading backdrops and deep.


Lipari, the island with the greatest extent and geographic centrality, represents the fulcrum of the archipelago; restaurants, shops, clubs, very vital during the evening, and very receptive both as a sparse and as a port. Salina, in the immediate vicinity, offers an accessible port and the famous Pollara harbor (where the well-known film by Massimo Troisi "The postman" was filmed). The closest to the Sicilian coast is Vulcano, which takes its name from the homonymous Vulcano which hosts (can be visited), and which offers the possibility of taking a bath in the thermal waters that directly overlook one of the island's beaches.


Vulcano also has a private marina for pleasure crafts. Panarea, the most VIP island, small and hospitable, with nearby Basiluzzo, and the Lisca Bianca and Lisca Nera rocks


Stromboli, with the always active Volcano, 900 meters high (visitable with a guide) called "IDDU ", and with its unmistakable black beaches.


The more remote Filicudi and Alicudi, the first with a double slope, both tourist-attractive, and the wilder and almost uninhabited Alicudi, perfectly conical and less receptive for the very deep and steep backdrops.


From the climatic point of view, the Aeolian Islands are the islands that offer the highest temperatures, on average, and generally good weather conditions, in the months from April to October, for a decidedly large seasonal period; The hospitality of the Aeolian people, combined with its climatic characteristics and geographical position, make them very attractive for pleasure boating, even in the months that are not purely summer.


Yacht and Catamaran charter Aeolian Islands

Rent a sailing or motor boat to Eolie Islands, and sail the Eolie islands freely. Choose the model, the date and proceed with the boat rental without or with skipper, motor yacht and catamarans.