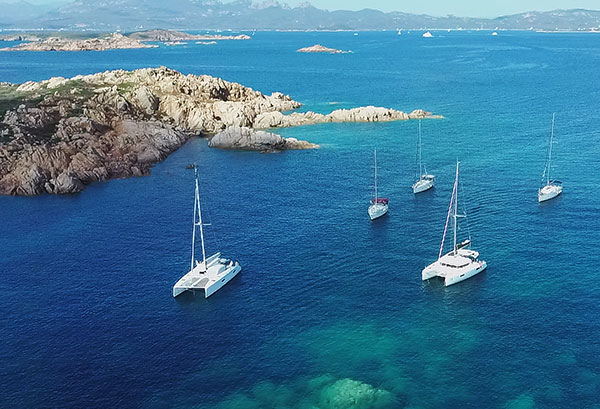 The comfort of a catamaran vacation is one of the advantages that you can get if you choose this kind of sailing boat. If you can choose your holiday and you have no idea where to turn your attention, this article will be useful for making a targeted and conscious choice. We mentioned about comfort, why? A catamaran has an internal layout that will amaze you, to which are added enjoyable outdoor spaces and many other components that you do not expect and that will help give you a holiday that combines comfort and relaxation at the same time. The catamaran charter also includes the skipper, a crew made up of a captain and hostess or cook; if you have never been on a sailing boat and you love the sea, being able to live this experience in a catamaran is certainly tempting.
Curiosity about the catamaran: why it is so convenient as a boat
The catamaran has two hulls that guarantee double comfort in the cabin area; in this sense compared to the sailboat, which tends to develop in length having narrower spaces, the catamaran tends to develop in width. The two hulls in the catamaran are generally occupied by bathrooms and cabins, consequently they are much larger and more spacious than other boats. Having space available, the catamaran can have a very large sofa for your comfort, the cockpit, the very large outdoor living area and a sofa that can also be used as a bed, perfect for staying in company; it can also have available a large table ideal for dinners shared between relatives and friends. There is also the external area ofthe catamaran, ideal for enjoying the fresh sea breeze on a summer evening. In addition, the catamaran itself can be enriched with high-level objects and nautical equipment; an interesting idea may be to be advised on the choice of an artisan gangway, a valuable and customizable element that will give an additional touch of quality to your boat.
Holidays on the catamaran: relax even while sailing
One of the most important characteristics of a sailboat is that in order to navigate it tends to lean in the direction of the wind, consequently navigation requires constant attention while driving. If your desire is to remain lying in the sun, the catamaran will allow you to fulfill it; the double hull tends to balance the movement even if you have the sails unfolded, and during the navigation phase you will not be forced to move from the bow nets. On a vacation on your catamaran, exploring the shallows will not be a problem! The drift of a sailboat, essentially the metal part that tends to protrude below the hull to balance navigation, makes these boats impossible to get too close to land.
In this case the advantages of the catamaran are the following:
1. The catamaran can more easily enter even within the coral reef in exotic seas.
2. The catamaran overcomes shallows without being forced to go around them, and it is generally possible to moor even in bays that are hidden and fascinating for this characteristic, approaching decisively on land.
You can understand that some narrow and scarcely deep inlets are no longer inaccessible, indeed, it is precisely there that you can leave the catamaran.
Catamaran holidays: an apartment with a view, located on the sea
The possibility of finding yourself in what can be defined as an apartment on the sea is particularly stimulating and comfortable; in the catamaran you have everything you could wish for and which you would find in a comfortable apartment, but to this can be added an additional element of value, represented by the beauty of a panoramic view that no apartment can guarantee. If you are thinking of a vacation to share with friends, or with people you know recently, living it in a catamaran will certainly make it special. Chartering a catamaran is truly a wonderful way to approach sailing; you have the opportunity to experience the sea in total comfort and with all the services you need. Here you can choose for countless brands, including making a choice regarding models, which have their specific characteristics. A catamaran is excellent if your holiday will be shared with large groups of people, as this boat guarantees stability and plenty of indoor and outdoor space.
You just have to make your choice by chartering and booking your catamaran with Charteritaly.