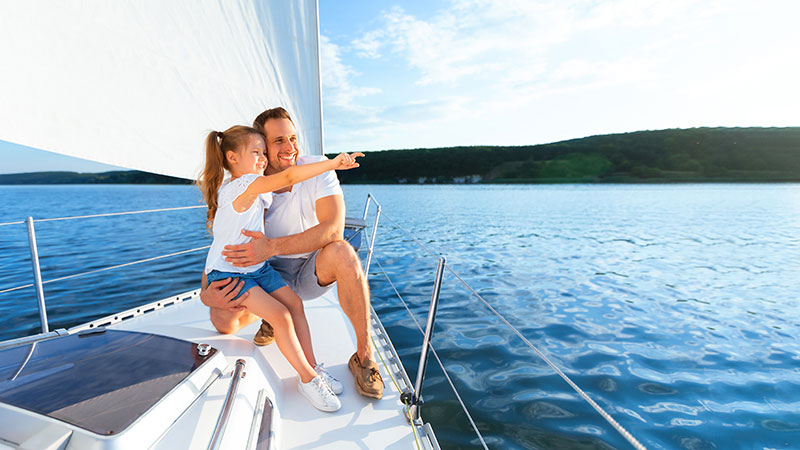 Are you planning sailing with children for your next holiday?
It is important to understand that it is possible to sail and have fun with the children, but the life on a boat will always have to be regulated, you should taking into account that their needs change when they grow up. Let's take a look at some practical tips for not being unprepared. Let's start by saying that different ages correspond to different types of needs. For example what is essential and necessary for a child of 1 or 2 years old, it is unnecessary for one of 7 or 8 years old. So navigation will be regulated according to their different needs.
Boating with children, under 1 year old
The best age to sail with children is this: newborn babies. At this age, children are much easier to manage. The most obvious reason is that they still do not walk, so they cannot create dangerous situations. It's important that they feel safe and in contact with their parents as much as possible, and that their physiological needs are satisfied in the best way. We recommend to follow their routine precisely and punctually, because this enormously reassures the newborns, especially in the boat. We advise you to make easy routes, not too demanding and consider stopping a couple of days in the ports to be able to refuel supplies and water. In addition, you will not need any special accessories to bring on board, because the crib and seat will be sufficient. Take advantage if you have children of this age, because with a few precautions you can live the boat holiday without problems.
Important items to have on board
The essential objects to have on board are definitely the cradle and the seat. In fact, the crib is used to put the child to sleep wherever you want, and then easily carry him in his cabin, where he can rest. The car seat, however, will be very useful to keep your child sitting in the cockpit as if it were on the car seats. In addition, the food of the child of this age, as well as its accessories, also occupy an entire locker! So you'll have to gear yourself up trying to bring only the essentials. The inflatable pool is another indispensable object for children in boats. You need one not too big, 60 cm in diameter so you can use it anywhere on board. You can use it in the cockpit, filled with a little water to play your child in the cool and shade under the awning. It can also be useful even when it is empty, in fact the child can play in it below deck, as if it were a small box games. Finally, it is perfect for bathing with fresh water and soap. In short, can not miss among your accessories. Also the table, camping seat is very useful in boat. There are several models of chair without legs, in canvas that are fixed directly to the table thanks to a mechanism to "clamp". We highly recommend this product for its compactness when disassembled. It will also avoid bringing on board the high chair with extremely bulky legs but, will allow you to still sit the child at the table with you, to get used to it.
Sailing with children between 1 and 3 years old
This is probably the most difficult age range, in fact children do not listen much, and are attracted by everything, they also know how to walk, so they run everywhere. They also do not have the perception of danger, and this can lead them to get into trouble. You will therefore have to try to prevent any problems, you must put the boat in safety, and equip it with a series of important accessories to be able to stay with the children in the boat without danger.
Important items to have on board
First of all you need a child safety net (Safety net rail): you can order it in advance, as an option to be mounted on board by the owner's staff, and it is essential to prevent accidental falls in from the edges of the boat. It will also be useful to avoid falling overboard toys. Another essential object is the life jacket, at this stage the child must always wear it, not only at sea, but also in port. We recommend the self-inflatable models, which are less bulky and have a safety belt included. Extremely useful are also sponges to protect shark edges, we suggest to put them everywhere: on steps, edges and on all the angles that can be dangerous. At the end of the lease you can remove them easily, do not worry, but they are vital to avoid accidents.
At sea
At this stage, children are interested in swimming and going to the beach to play with the sand. It will be important that you try to organize a holiday that can balance the moments at sea with those on land.
Sailing with children between 4 and 7 years old
At this age children begin to be more independent in the game, and then you will probably have some small moments of relaxation! It's important to understand what amuses them, with some toys, such as a balloon, a doll, an inflatable mattress or a fishing net, to create harmony for the success of the holiday.
Important items to have on board
It is very important the seat belt and the self-inflatable vest must always be worn, in fact, at this age, it is very difficult to keep children sitting. The fishing rod and net are very useful for hunting crabs on the beach or the hedgehogs on the rocks is a perfect sport for them, as well as fishing in the harbour with bread crumbs, a wire and a hook. Take advantage, they will be hypnotized! Inflatables are a timeless game in the water, they have their appeal! A mini dinghy is a perfect playmate, able to donate endless hours of play in the water.
At sea
We suggest you to balance ports and wild bays in the same amount, and try to understand what prefer your children. If your children prefer the beach by boat, try to please them, if they prefer to dive in the water you will go more often in the bays.
Sailing with children from 8 years old and up
If you have been able in the previous phases to meet the needs of your children and make them live the boat holiday in a pleasant way, from this age they will be happy to participate in the navigation and will be delighted. You can begin to teach some basic rules useful during the Cruise and also put them at the helm, under your total supervision. They will be happy to improvise "junior commanders" and to bring in their memories a photo while they govern the boat.
Charteritaly team is available for every need you can have, for the better organization of the boat you will choose and to give you all the advice you need.