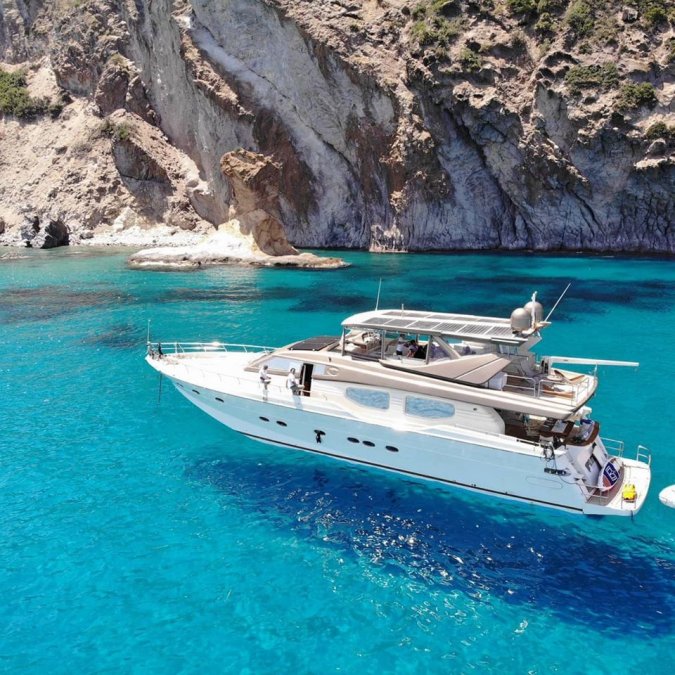 If the sea is your element and you love speed, then a motor boat is the perfect choice for you!
The great thing about traveling with a motor boat is that you can get to your destination earlier than other types of boats, enjoy wonderful scenery, ride the waves and see as many places as possible. Furthermore, charter a motor boat means choosing a boat with large space, indeed the cabins are large and comfortable, the rooms are luxurious and spacious.
Yacht charter without Skipper
Charteritaly offers you a large fleet of motor boats, different in type and size, with different charter methods, with or without skipper. If you have a boat license, you can command the boat and you are free to manage your timing and your navigation itineraries. Charter a motor boat inevitably involves an additional cost due to fuel, but the advantages, compared to another type of boat or a monotonous hotel holiday, are so many. In fact you will be free to move to reach the most beautiful places, where the sea is crystal clear and you can reach exclusive locations enjoying great privacy.
Motor Boat charter with Skipper
If, on the other hand, you do not have a boat license, the presence of a skipper is mandatory, who will take care of commanding the boat, of the itinerary, of communicating with the harbor master's office, of the anchoring maneuver and of the maintenance of the boat, so you can fully enjoy this holiday, luxurious and comfortable. Charteritaly also gives you the opportunity to have a hostess and a chef on board, so you can live your experience at sea at 360 °, and you won't have to worry about anything, just relax.
If you charter a motor yacht you can reach dream destinations in a very short time, and you can dive into pristine waters away from the chaos.
It is an experience to try at least once in a lifetime, what are you waiting for?
Contact us and we will let you live your dream vacation, where, among many things, you can immerse yourself in unique and unforgettable scenarios, relax on the deck, dine offshore admiring the lights of the mainland, all with the undisputed professionalism and safety of Charteritaly.