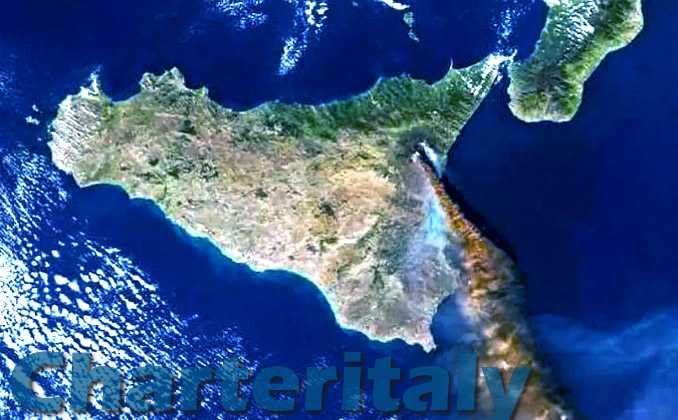 Sicily is one of the two major islands and is located in the south of Italy.
This great position makes it very pleasant even in the spring and autumn months, as well as in the hot season.
Especially around the Aeolian Islands, in the north of Sicily, the weather is generally mild and stable, except for brief local depressions.
You can therefore take advantage of this region sailing in the seven islands and all over the coasts in a large period of the year.
Where can I charter a catamaran in Sicily?
The Catamaran is the ideal boat type for getting as close as possible to the coast and, with its low draft, useful to withstand the most interesting bays. On the other hand, the mooring fee for a Catamaran are more expensive in the marinas than a monhull.
Anyway, if the weather is good and the security regulations allow it, it's also possible to acquire anchor in the harbours, especially with skippered Catamarans.
The central base to discover the Aeolian Islands are Capo D'Orlando Marina, Portorosa or Palermo.
To sail to the Egadi islands, there are the following bases: Palermo, Trapani and Marsala.
The southern coast of Sicily, where the new Marina di Licata is located, is less attractive for the charter.
Expert sailors can eventually sail to the archipelagos of Pantelleria, Linosa, and Lampedusa. Please note that they are very distant from the Sicilian coast and above all from the Sicilian ports, even the closest ones such as Trapani, Marsala and Licata.
The greatest areas of attraction for sailors are the Aeolian Islands and the Egadi Islands.
The seven Aeolian Islands (Lipari, Vulcano, Salina, Panarea, Stromboli, Filicudi and Alicudi) represent a variegated archipelago with distinctive identities and wonderful bays to explore. The Charter period could be long, up to two weeks, with different landscapes, bays, and town to visit.
The Egadi Islands offer a less varied tour, and in August and September stronger winds can cross them – but for more sporty sailors interested in sailing in strong winds, it can be fun! The three Egadi islands, Favignana, Marettimo and Levanzo, will keep you busy for a one week-long sailing holiday.
Sicily's weather: what are the best months to visit?
Sicily is the largest Italian island with the highest temperatures and generally good weather and sea conditions in the months from April to October. It's a long and wide seasonal period. The friendliness of the Sicilian people, together with its climatic conditions and geographical position, make it very attractive for the sailors, even in the low season.