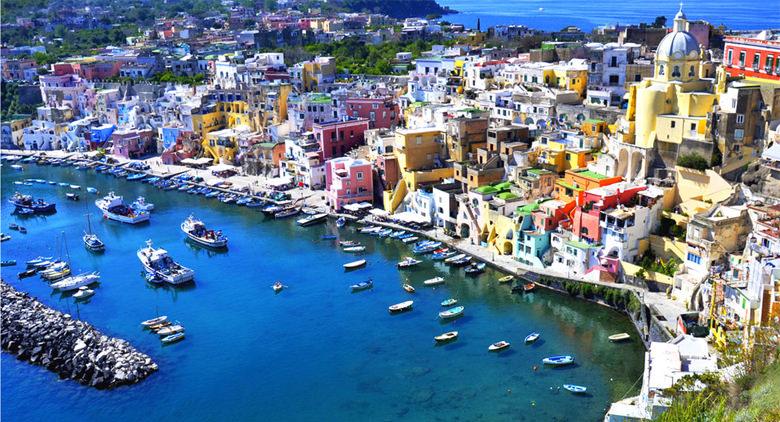 Procida is the smallest island of the three Phlegraean islands, and the closest to Naples, in the homonymous Gulf.
Yacht Charter Phlegrean Islands
Procida is a great starting point for the charter Boats and Catamarans, with a new Marina with a large number of available Sailing boats and sailing Catamarans, with or without skipper.
An ideal base, close to the city of Naples, and with a picturesque landscape and typical hospitality provided by the island's people and nautical operators.
It is an island with three very interesting sides, and a historic Center with a Castle reachable on foot from the port.
Corricella
On the south side, there is the small fishers port, Corricella: you can also see it by climbing the castle and looking at it from above, it is one of the most popular postcards on the island.
Its colourful houses, its integrity as an island not purely tourist but receptive, make it unique in its kind and distinct from the other two more famous islands, Capri and Ischia.
Navigate the Phlegrean Islands
Starting from Procida you can also visit the other two most famous islands, and relax yourself to the of the various Thermae of Ischia, or to the VIP mood of the island of Capri, visiting all the sides and their beaches, and also visiting the famous stacks of Capri and the blue cave.
Procida capital of culture Italy 2022 year
For the 2022 year, Procida was named Capital of Culture in Italy, an important Award achivied thanks to its historical and natural beauties, and thanks to the industriousness of its local tourist operators, nautical and otherwise.
Procida can be reached from Naples and Pozzuoli with numerous ferry rides, even with cars.
The ideal base for sailing, with numerous boats for charter, and comfortable for its serene hospitality, away from the noise of the big city.
Browse the boats available in the Marina di Procida, and ask us for a dedicated offer for boats also out of the price list.